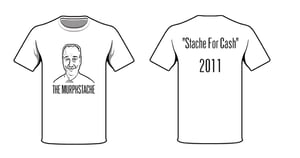 $

10.00
Local Celebrity and Sportscaster, Keith Murphy, once again grew his Mustache for "No Shave November" in order to raise money and awareness for the American Cancer Society.
We have teamed up with Keith to help with his cause- For every T-shirt purchased, all proceeds will go to the American Cancer Society. Here is a link to Keith's page: http://teamacs.acsevents.org/site/TR?fr_id=42808&pg=entry
Just because Murph's Stache will be gone at the end of November, doesn't mean you can't enjoy it year 'round!
As seen on Channel 13 (NBC) and heard on KXNO (1460am)
sizes available:
Women's- Small - 2XL
Men's- Small - 3XL
Please email us with any questions: groundzeroscreenprinting@gmail.com